Relationships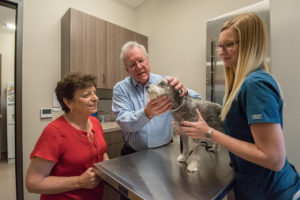 Personal service is a lost art in today's on-demand, on-the-cheap world of instant gratification.
Seldom can you find a sales person who knows their line of goods and makes certain that their product fits your need … or your foot. Even more rare is the occasional gem who remembers your name.
Arlington Veterinary Center is founded on principles of personal service, tailored to the needs of your pet and often in consideration of the family situation. It is our privilege to share with families not only the joys, but also the sorrows as we travel together the many paths of pet ownership.
Relationships are the key. In some cases, we enjoy decades-long relationships extending even into the family's fourth generation.
AVC's professional staff consults frequently, reviewing puzzling cases, pouring over laboratory profiles, radiographs, sonograms and other diagnostics. Of great value in this process is knowing the patient and the family.
At AVC we strive, as scheduling permits, to keep your pet under the care of the same veterinarian on each visit. In this way, your veterinarian gets to better know your pet and you, making the Arlington Veterinary Center team that much stronger.