A Word from Dr. Smyth: Reflections on a Career in Veterinary Medicine
The beginning of this month marked a special anniversary for Dr. Smyth – 50 years of practice in veterinary medicine. The outpouring of support for him and his work was so great, he's the feature of this week's blog! Read on for a special word of thanks from him and then has he reflects on 50 years in veterinary medicine.
---

There are so many people I must thank for making August 5, 2002 such a special day. The outpouring of gracious comments from friends and families of pets entrusted to my care over these many decades was overwhelming. My heart was touched in ways I cannot explain, especially in hearing from two young ladies who grew up with my kids as I played the part of Taxi-Dad years ago. Thank you one and all.
Orientation
Monday morning, August 5, 1973, my classmate Dr. Robert Moomaw and I were less than 48 hours from having received our Doctor of Veterinary Medicine degrees from the College of Veterinary Medicine, Texas A&M University, as we drove to our first day as Associate Veterinarians at South Oak Cliff Animal Hospital in Dallas. This was a six-doctor hospital group with two satellite clinics where Robert had worked while in high school. I asked what we might expect as an orientation process. He answered that we would probably follow the other doctors around for a few weeks and might get to assist in surgery.
We arrived before 8:00 a.m., parked and walked toward the steps at the hospital's back door. As my foot hit the first step, the door flew open and there stood a disheveled Dr. Leonard Carpenter, our employer, who appeared to be well into his day with both hands full of medical charts. His greeting was exactly this, "Glad you boys are here. There are clients in your rooms. If you need anything, ask Lucy. She runs the lab." THAT was orientation, or more accurately immediate immersion!
What followed were two years of intense application of veterinary science and practice as it existed in the early 1970s. Every day was like a new course with a learning curve demanding the best of us. The only way to survive was to become a sponge and soak in all the knowledge and experience possible from those who had been around a while. Continuing education was not only scores of seminars, but also every day long days, on the job. The learning continues even in my 50th year in veterinary small animal practice.
Technological Advancement
Like our human medical cousins, veterinary medicine has seen incredible advances in those five decades as well as emergence of new, devastating and frustrating diseases.
We take for granted in 2022 that digital radiology produces amazing X-ray images in less than 2 seconds.
In the Jurassic Period of the 70s and 80s, all X-ray generators were made of banks of vacuum tubes and literally thousands of yards of copper wire connecting capacitors, relays and transformers that were little different from a 1950s Heathkit crystal radio or Lionel electric train controller.
In 1973 it took 48 – 72 hours to get lab results on our sick patients. Then, a very nice young couple, John and Joni Ray, started Vet Lab in Dallas, offering 24-hour turn-around and eventually, oh my gosh, overnight or same day service. Reporting was by telephone (Remember: no internet, no cell phones). It was laborious and handwritten as the labs would call and dictate numbers to the aforementioned Lucy.
I tell this story because I wait impatiently as our in-house lab equipment takes a hair-pulling 10 – 20, or 2 minutes to provide four to five times as much information available to us way back when.
New Practices
My wife and I moved to Arlington because we liked what we found when we came to visit friends who had moved here from Dallas. I opened a practice, called Fielder Animal Clinic in Arlington on Wednesday, May 19, 1976. It was next door to an old 7-11 and across the alley from Estes Barber Shop and Miss Vi's Dance Studio, long before Ginny and Bailey Rufe opened Arlington Hardware in an old, vacant A&P store. Three days later our first child was born. As I recall, that was my first and only Saturday off for several years. The old clinic site now sells wings and subs.
I was fortunate to combine my practice with that of Dr. Kirby Warren at Sanford Oaks Animal Clinic from 1981 to 1987. One of our crowning achievements was to be pioneers of computerized veterinary practice management. It was a great, simple system that cost over $15,000 for a 10MB hard drive CPU and two "dumb terminals". Yes … 10 MegaBytes and yes … $15000+ … I still have the receipt. It was a DOS-based program that allowed easy fixes. The software engineer, Bob, advised that if we had a few extra dollars, we might consider investing it in the little start-up that developed DOS. That would be Microsoft and no, we didn't.
If you don't know what a dumb terminal is, or was, it's basically a big, bulky box that contained a cathode ray tube. If you don't know what a cathode ray tube is, that's what televisions used to be made of before TVs went on a diet and got educated. Oh, and televisions and dumb terminals 'back in the day" had a lot of those vacuum tubes … which a cathode ray tube was also a GIANT vacuum tube.
Leaps Forward
None of us in veterinary practice could have imagined ultrasound being a routine tool in veterinary small animal practice. Dr. Warren and I had an opportunity to investigate a unit in the mid-1980s, but it seemed pointless as we could see nothing, literally nothing, except what appeared to be a plaster wall.
A few years later we would understand that the unit we were shown was suitable only for large cattle, horses … and elephants … so it probably was indeed the wall we had seen. Back then, the marketing people and most veterinarians had no understanding of things like megahertz, harmonic curves, acoustic attenuation, impedance and the thousands of other factors that are sonogram technology.
Sometime this month, Arlington Veterinary Center will wave goodbye to its FOURTH ultrasound system which, like the three before, has been used into obsolescence. Never did I think I would gladly welcome a FIFTH ultrasound unit into the fold.
Then again, let's say it this way, "Who'da thunk!!!" Two years ago, AVC installed a magnificent Vimago Pico CT Scanner which has elevated our diagnostic capabilities to a whole new level.
More incredible diagnostics, medications and treatment modalities are coming our way thanks to the exponential explosion of knowledge in biochemistry, physiology and genetics. With all that is to come, I am certain that we will one day take for granted the miracles of today as we do those of the past.
…and Ever Onward!
Fall of 1987 found me back on my own at the corner of Bowen Road and Norwood in a practice given the catchy name Bowen Road Animal Clinic. That's now a wedding dress shop, Lang's Bridal, and Norwood right there is now Abram Street.  Since December 16, 2016, I hang my hat, figuratively speaking, at Arlington Veterinary Center.
Much in veterinary medicine and veterinary practice has changed in the last 50 years. More is on the way. One area in which I refuse to surrender is the personal service my practice has always provided to both pets and their families.
That commitment begins with a living, breathing human being that answers the phone when you call. Please be nice to those folks. Their job has been especially difficult the last couple of years. If you don't believe that, come hang out for a while … and answer a few calls.
Gordon Smyth, D.V.M.
Texas A&M University Class of '71
College of Veterinary Medicine Class of '73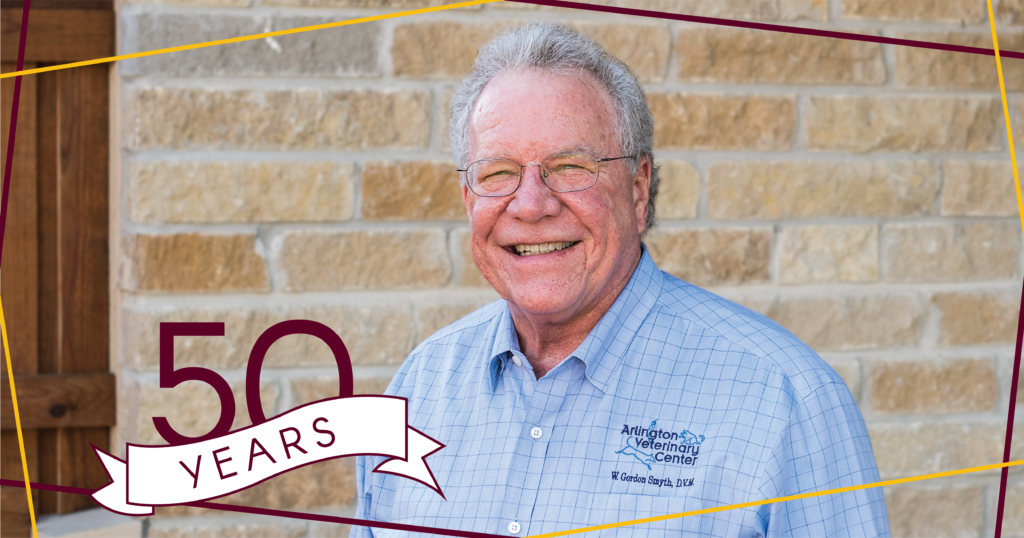 ---
Be sure to check out our other blogs for more tips, tricks, and education when it comes to you and your pet!